We already supply all our doors with a base coat to get you started but for an external door, you need to give your project some thought before getting on those overalls and start painting!
1. The first thing to consider is what the external style of your home is and what are its surroundings. Is your house made of brick and if so, what sort? Is it a painted exterior and what colour is that? What are the surrounding tones, do you live in a field near nobody or do you have close neighbours' colour schemes to complement? These are all realistic questions before deciding the colour you want.
2. When choosing your external colour scheme, It's important to remember that exterior doors are exposed to more sunlight and quite simply, weather, so as such, their colours fade more quickly.
3. Remember that colours change after exposure to sun and light. Following a hot summer using cheap paint, yellow can look beige and bright red, a dull pink.
4. Choose good quality paint, at the end of the day, the humble front door has to be able to withstand all kinds of matter such as ice, hail, sunlight, pollution, storms and other catastrophes so good quality paint is important.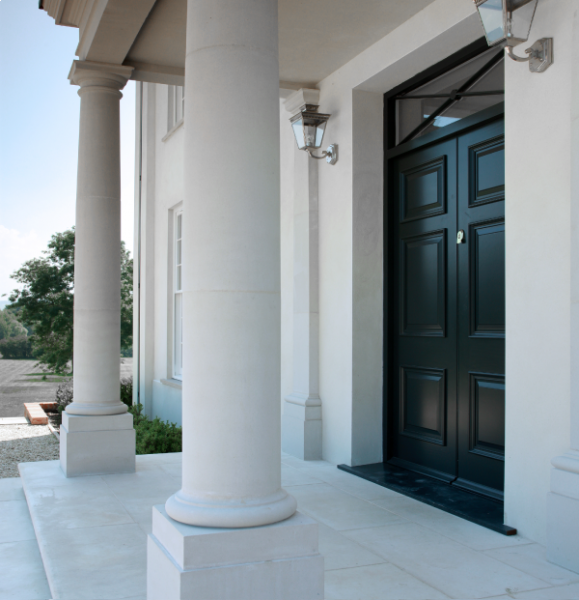 This stylish door suits its dark colour and contrasts nicely with the cool walls and columns.
6. If you've ordered a new bespoke door from us, it's a unique product so don't be afraid to give it some personality. Being a top-quality door, you can afford to use high gloss paint, something you wouldn't choose for an older door as it would show up its imperfections.
7. Choose a paint that says 'exterior' or 'interior/exterior'.
8. Prepare the door and look for any minor marks. If the door has just arrived from us it will be in tip-top condition, but if it's been up for a while and your five-year-old is learning to ride a bicycle beside, check for any blemishes!
9. When rubbing down an area after having put in fillers, start with a medium grade sandpaper (120) and move to fine (18- - 220), to ensure a smooth surface.
10. If you are re-priming your door, for example if it's been up for a while without having been painted, use a co-ordinating primer colour.