Fancy a barn door?
At made to measure doors UK we do many styles of doors but if you're after the complete rustic look, then it's hard to beat an authentic barn door.
So what is a barn door and how is it different from a standard panel internal door, the type we sell every day at Trunk Doors? Well, there are two essential criteria.
1) it slides on a hanger and
2) its construction is usually from a rustic or simple style of door; something like a Shaker door or Cottage style, from our range.
There are many advantages to a barn door compared to a conventional door, apart from the obvious 'that's a really cool door there', feature! For starters, it eliminates the need for a swing, thus reducing the need for the space equal to the width of a door. This may be very useful in places such as kitchens where trying to fit in all your equipment in a small area may be an issue. Of course it does need its width again on whatever side it slides to, but in some cases that may not be an issue.
There are some amazing practical applications for barn doors and if you need inspiration, have a look Sebring Design who provide 51 of teh best pictures of a barn.
In its most simplest form, as shown in the picture courtesy of Cornestone Construction, Newport Rhode Island, the barn door concept is used in a basic form, that of simply providing a country cottage feel. It's simple design and uses a door similar to our cottage door and painted pure white (from what we can gather from the picture), contrasting nicely with the black hanging frame.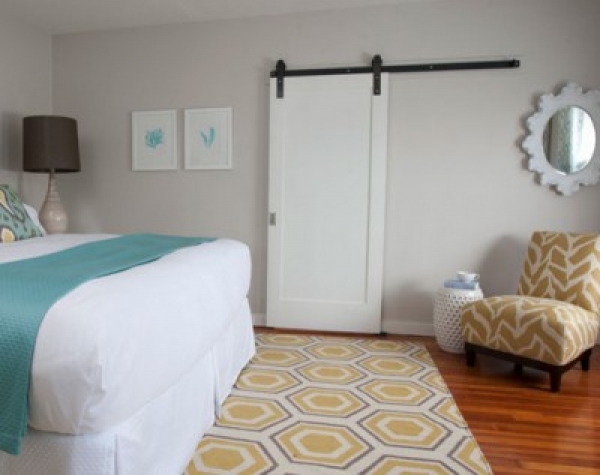 The next image, with thanks to Significant Homes LLC, shows where a barn door is cleverly used to hide away bunk beds, and excellent idea for a holiday home, perhaps, or even it could be used to partition other living spaces.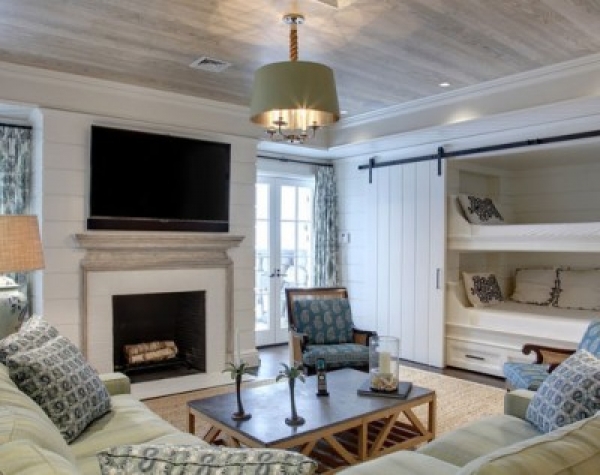 The final image, from Adams and Beasley Associates, shows a nice use for the door where it is used in a narrow passage-way to hide white goods. With it being painted white and opposite windows, it is clear to see how it would not necessarily darken the hallway.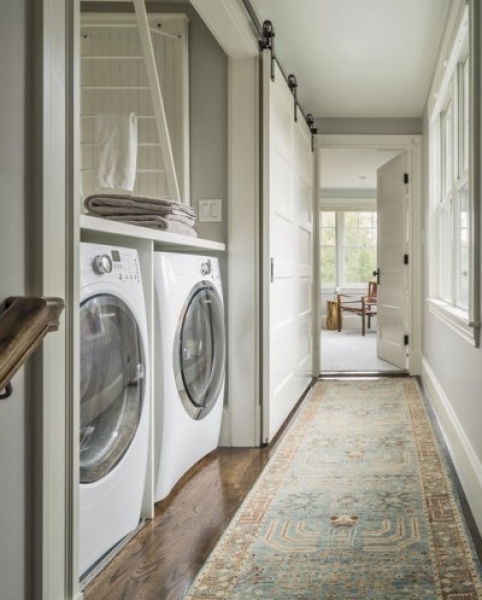 Having got your barn door, the next thing you need is a hanging kit. We don't supply them but they're available from Amazon and most DIY stores from £40 and upwards, depending on what you like. We don't supply these kits as there are so many styles and designs, it's a bit of a minefield!
For some basic advice, a good starting point is an excellent article by Brandon Hubbard in The Architect's Guide, called, The 10 Best Barn Door Hardware Kits. It's an American website so the links to buy don't really work, but it gives you a great overall idea of where to start.
All these projects are possible with our barn door collection, all it takes is your imagination, a look around www.madetomeasuredoorsuk.com, a tin of paint and a few tools!